Scenic Byway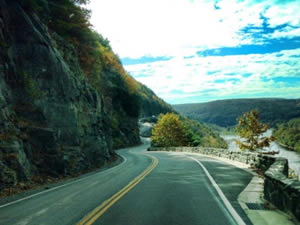 Delaware County is the Northern Gateway to the Upper Delaware Scenic Byway — New York State Route 97 — which traverses a scenic 70-mile stretch of the Delaware River from Hancock to Port Jervis, NY.
This scenic drive will take you past county eateries, art galleries, museums, theaters, antique shops and general stores; all surrounded by undulating hills, long valley vistas and rock cut landscapes.
Motorcycle magazines cite Route 97 as being one of the best riding roads in the Northeast Region, and portions of Route 97 are National Park Service designated as Bike Route 17 for bicycling enthusiasts. The nationally-renowned Upper Delaware Scenic and Recreational River, which largely parallels the highway, offers numerous accesses for fishing and boating.
For more information on The Byway,
Scenic Byway's Website.